DEPARTMENT OF INTERNAL MEDICINE
1. Personnel
The Department of Internal Medicine currently has a total of 22 staff including 21 lecturers and 1 officer. 21 lectures include two Associate Professors, three Doctors of Philosophy, six Masters, three Residents, and three Doctors who are studying graduate programs.
2. Teaching responsibilities
Undergraduate training
The Department of Internal Medicine takes responsibility for management and undergraduate training of different Internal Medicine modules for students of Medicine, Preventive Medicine, and Ondoto-stomalogy.
Graduate training
The Department takes part in teaching graduate training programs, including PhD in Internal Medicine, Master, Residency, Specialist Doctor in Internal Medicine; Second Degree Specialist in Internal Medicine.
The Department also trains different modules of Internal Medicine and Resuscitation for graduate learners in Surgery, Obstetrics, Pediatrics, Anesthesiology, Radiology, Tuberculosis, and Dermatology.
Continuous Medical Education
Together with Undergraduate and Graduate training, the Department of Internal Medicine also organizes short courses according to social needs like Gastrointestinal endoscopy, Hypertension treatment, Diabetes treatment, and Electrocardiogram interpretation.
3. Areas of Expertise
Internal medicine and Intensive care are the expertise of the Department, especially:
• Treatment of cardiovascular diseases: Hypertension treatment, diseases of coronary arteries, coronary angiography, coronary stent placement;
• Treatment of respiratory diseases, bronchoscopy, and active pleural adhesion;
• Treatment of digestive diseases: Gastrointestinal endoscopy, hemostatic endoscopy for gastrointestinal bleeding, Endoscopy for cutting gastrointestinal polyps.
• Treatment of orthopedic diseases, glen endoscopy, degenerative joint disease treatment with platelet-rich plasma.
• Treatment of urinary diseases and periodic dialysis
4. Scientific research
• Studies on the application of endoscopic hemostasis in hospitals.
• Participation in the implementation of studies on kidney transplantation.
• Researches on the application of stem cell transplant to treat multiple myeloma.
• Application of permanent pacemaker and coronary stent placement
• Researches on All-Trans Retinoic Acid and cancer stem cells in stomach cancer treatment.
• Implementation of researches and technology transfer to support health system development.
• Provision of healthcare services that meet the needs of individuals, families, and communities.
5. Leaders' information and contact
Leaders: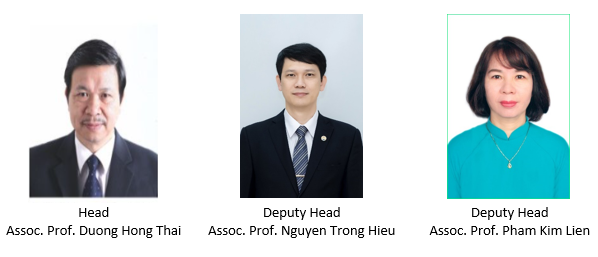 Contact:
- Office: 8th floor, 11-storey building, Thai Nguyen University of Medicine and Pharmacy
- Address: 284 Luong Ngoc Quyen str., Thai Nguyen City, Thai Nguyen province, Vietnam
- Phone number: (+84) 208 3765287
- Email: duonghongthai@tump.edu.vn
Department Contact Info
DEPARTMENT OF INTERNAL MEDICINE
8th floor, 11-storey building,
Thai Nguyen University of Medicine and Pharmacy
284 Luong Ngoc Quyen str.,
Thai Nguyen City, Thai Nguyen province, Vietnam
(+84) 208 3765287
duonghongthai@tump.edu.vn
DEPARTMENT OF INTERNAL MEDICINE
Departments list