HOSPITAL OF THAI NGUYEN UNIVERSITY OF MEDICINE AND PHARMACY
1. History of hospital development
Hospital of Thai Nguyen University of Medicine and Pharmacy (TUMP Hospital) was established by the decision of the Ministry of Education and Training on February 1st, 2007 and officially operated from October 29th, 2007. The hospital has qualified staff who are lecturers of the University of Medicine and Pharmacy as well as professional nurses who can meet the required tasks.
ORGANIZATIONAL STRUCTURE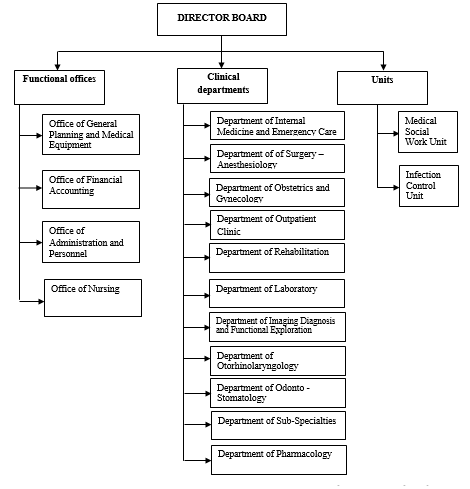 2. Personnel
The hospital currently has 11 departments, 4 functional departments, 2 units, and 115 staff including 02 Associate Professors; 05 PhDs; 05 Second Degree Specialists; 16 Masters; 10 General practitioners; 03 Pharmacists; 03 Pharmacy technicians; 08 professional nurses; 31 practical nurses; 12 technicians; and 06 accountants.
3. Hospital mandates and functions
TUMP Hospital's mandates are serving training affairs and scientific researches for lecturers, postgraduate and undergraduate students; providing medical examination and treatment to communities in the Northern Midlands and Mountainous provinces; and receiving, implementing, and transferring advanced biomedical technologies in medical examination, diagnosis, treatment and disease prevention.
4. Achievements
From the date of establishment to the end of June 2020, TUMP Hospital has had over 751,886 patient visits, treated 22,656 inpatients, performed over 11,019 operations (with 6,832 endoscopic surgeries), carried out more than 118,175 procedures and over 1,233,912 subclinical tests.
The hospital has been recognized as the one that performed the greatest number of endoscopic surgeries by the Health Department of Thai Nguyen province for many years. New and modern techniques are applied in diagnosis and treatment, which have contributed to health care activity for people in the area. The hospital has been awarded the Certificate of Merit by the Ministry of Health twice.
Department Contact Info
HOSPITAL OF THAI NGUYEN UNIVERSITY OF MEDICINE AND PHARMACY
284 Luong Ngoc Quyen Str.
Thai Nguyen City, Vietnam
HOSPITAL OF THAI NGUYEN UNIVERSITY OF MEDICINE AND PHARMACY