FACULTY OF ODONTO-STOMATOLOGY
1. Personnel
The Faculty of Odonto-Stomatology, Thai Nguyen University of Medicine and Pharmacy was established on April 9, 2012, as a specialized faculty directly under the University. The Faculty has functions of administrative management, training management, scientific research, technology transfer, and management of facilities within the Faculty. It currently has 24 staff, including 01 Associate Professor- Doctor, 13 Masters of Science, 06 Medical Doctors doing a graduate study, 01 Bachelor of Science, 02 Technicians, and 01 Staff with other qualifications. There are 4 departments as following:
• Dental facility
• Preventive & Developmental Dentistry
• Dental Rehabilitation
• Oral Pathology and Maxillo-facial Surgery
The Faculty is responsible for coordinating with relevant units to organize the comprehensive management of students. Up to now, the faculty has trained 12 cohorts of which five have been graduated, with 113 Doctors of Dentistry.
2. Teaching responsibilities
Undergraduate: The Faculty provides specialized dentistry courses for students of Odonto-stomatology, Medicine, Preventive Medicine, and Bachelors of Nursing.
Graduate: The Faculty is currently involved in teaching for Specialist Doctor level I, and ENT Specialist level II.
3. Areas of expertise
Scientific research
Regarding scientific research, in the past five years, the staff of the Faculty has published 43 articles, of which one in an international journal; 41 in domestic scientific journals, and one article in the School of Medicine Newsletter. The Faculty of Odonto-Stomatology has led 21 school-level studies and presented reports at international conferences. Scientific research includes basic research, advanced research, and the application of research results into practice.
The October Scientific Research and Training Conference of the Faculty of Odonto-Stomatology is held every two years and has become a major scientific event in the country, attracting hundreds of attendees.
4. Lab system
The system of specialized practice rooms for Dentistry includes 1 denture laboratory, 1 clinical simulation room, and 2 treatment rooms with 10 sets of dental machine chairs for preclinical and clinical practice. Especially, the Faculty of Odonto-Stomatology Laboratory has a full range of modern equipment for study and research, including implant drilling apparatus and tools, photo-polymerization lamp, ultrasonic tartar extractor, porcelain oven, canal length measuring machine, apical x-ray machine, ultrasonic vibrating system, and pre-clinical phantom service.
5. International cooperation
With the aim of constantly improving the quality of the faculty's specialized knowledge and scientific research, the Faculty of Odonto-Stomatology is currently cooperating with the Faculty of Odonto-Stomatology at Khon Kaen University
6. Leadership information and contact:
Leaders: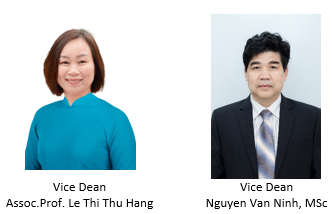 Contact:
- Office: Odonto - Stomatology building, Thai Nguyen University of Medicine and Pharmacy
- Address: 284 Luong Ngoc Quyen str., Thai Nguyen City, Thai Nguyen province, Vietnam
- Phone number: (+84) 208 3840628
- Email: ranghammat.dhydtn@gmail.com
Department Contact Info
FACULTY OF ODONTO-STOMATOLOGY
Thai Nguyen University of Medicine and Pharmacy
284 Luong Ngoc Quyen Str.
Thai Nguyen city, Thai Nguyen Vietnam
(+84) 208 3840628
ranghammat.dhydtn@gmail.com
FACULTY OF ODONTO-STOMATOLOGY
Faculties list