Southeast Asia is a region with cultural diversity among and between nations and comes along with an enormous plurality of healing system. The existence of different therapies in medicine has brought many advantages in health care for the people and is considered an important resource for the socio-economic development of each country.
To create a scientific forum for scientists, doctors and researchers to share research findings on the diversity of medicine and culture from each country in the region and build a network of cooperation and exchange, with the consent of the concerned parties, during May 3-4, 2017, Thai Nguyen University of Medicine and Pharmacy in collaboration with Thai Nguyen University organized the International Conference "Medical Pluralism and Cultural Diversity in Southeast Asia" Anchored on the theme: Sustainable development for health, society and economy
The main objectives of the Conference were: 1) To describe the numerous healing systems and their societal relevance among the diverse ethnic groups of South-East Asia; 2) To analyze their role for the endogenous development of marginalized areas of South-East Asia; 3) To understand the global potential of South-East Asia's medical pluralism by bringing together scientists, practitioners, activists, and companies from South-East Asia and beyond. The conference was an opportunity to exchange research results and experiences in the application of alternative medicine to medical examination and treatment, thereby further enhancing the development of traditional medicine as well as strengthening health care for citizens in each country. With this aim, the conference received a number of reports from national and international research institutes and universities, contributing to the plurality and diversity of the conference's content.
Prof.Dr. Nguyen Van Son, TUMP Rector was delivering the speech at the Conference
Attending the conference, there was Prof.Dr. Dang Van Minh, Deputy Director of Thai Nguyen University; Dr. Detlef Briessen, Professor of History and Cultural Studies, Giessen University, Germany; Dr. Brigitte Sebastia, A Specialist in Asian Ethnic Medicine, French Institute at Pondicherry in South India; Dr. Alexander Madrigal, Director of the Department of Science and Technology and concurrent Member of LSPU Board of Regents, Philippines; Dr. Nestor M. de Vera, Director of University of Laguna, Philippines. The Conference was also honor to have representatives from organizations and department in Thai Nguyen such as Thai Nguyen Health Departments, Department of Science and Technology, Department of Foreign Affairs, Thai Nguyen National Hospital, Thai Nguyen Traditional Medicine Hospital and leaders of departments and offices from Thai Nguyen University, together with the participation of more than 150 national and foreign delegates and journalists.
Attendees from University of Medicine and Pharmacy - Thai Nguyen University, there were attendances of Prof. Dr. Nguyen Van Son, Secretary of the Party Committee, Rector of the University, and members in the Party Committee, Dean Board, leaders of the Faculties/Departments and faculties of the university.

Dr. Alexander Madrigal was presenting at the Conference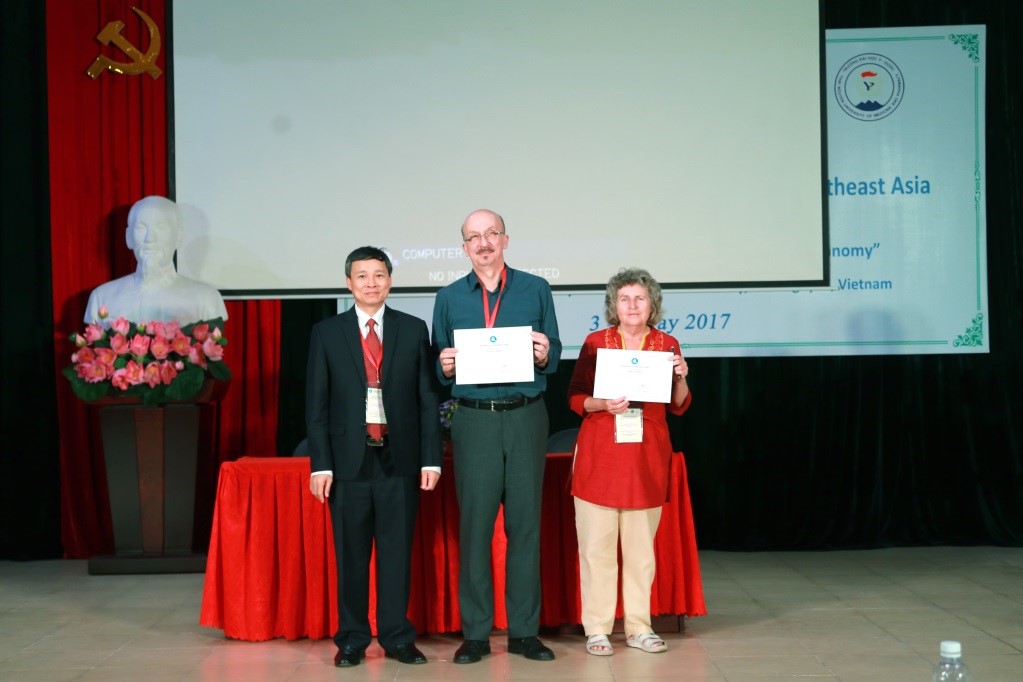 Prof.Dr Nguyen Van Son, Rector of TUMP awarded the certificate to the Conference consultants
The conference cam to close with achieved objectives: Speakers and participants shared their experiences about research methods in alternative medicine and health related culture and medical pluralism and livelihoods in Southeast Asian countries. Furthermore, experiences in developing traditional medicine with health insurance coverage in Germany were also presented in the workshop. One of the workshop's important results was establishing a network of scientists in the region in the field of traditional medicine.