On November 14 – 15, 2020, Vietnam's Ministry of Health (MOH), Ministry of Education and Training (MOET), the United States Agency for International Development's (USAID) project, Improving Access, Curriculum and Teaching in Medical Education and Emerging Diseases (IMPACT-MED), the World Health Organization, and Thai Nguyen University of Medicine and Pharmacy successfully organized the 4th Annual Medical Education Conference – "Partnerships in Medical Education" in Thai Nguyen city. The Conference attracted more than 400 participants on site and 100 virtual participants, including leaders, faculties in medical education, and students in Vietnam and around the world.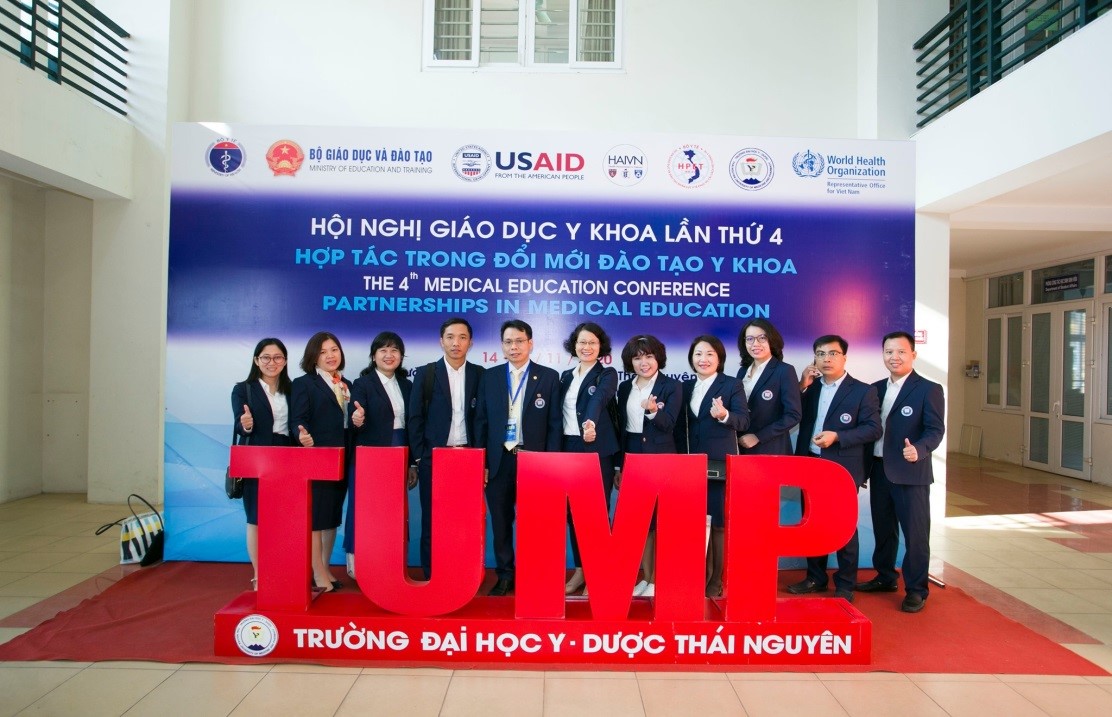 Conference participants from School of Odonto-Stomatology, Hanoi Medical University
This year's theme, "Partnerships in Medical Education", is a reflection on the incredible achievement among Vietnamese health professional training institutions, who have formed diverse partnerships with national and international organizations to train the current and next generation of health care professionals in Vietnam. This is highlighted in partnerships with private sector, government and international institutions developed to strengthen the health workforce to respond to the COVID-19 pandemic. "Never has our work together been more important than now. As the COVID-19 pandemic spread across the globe, knowing no borders, the US Government is proud to partner with the Vietnamese Government, Ministry of Health and leading medical universities in Vietnam, all here today, to train senior medical students to work on the frontlines of this pandemic and contribute to the COVID-19 prevention and control strategy" said Ann Marie Yastishock, USAID Mission Director.

Mrs. Ann Marie Yastishock, USAID Mission Director was giving the speech at the Conference
The 4th Annual Medical Education Conference consisted of panel discussions, scientific sessions, workshops, satellite sessions and interactive poster sessions, covering various fields of under-graduate and post-graduate health professional education related to (1) Strengthening Virtual Learning; (2) Assessment in competency based medical education: challenges and lesson learnt; and (3) Faculty development in competency based medical education.

Participants were attentively attending the Conference
A crucial component of the annual conference is the National Student Essay Content. This year, this contest received nearly 300 submissions from students across 17 health professional universities in Vietnam, addressing the topic: "As does being a health professional student in the COVID-19 shape your vision of your future as a 21st century healthcare provider?"
The conference was honored to welcome five national and internationally renowned experts in medical education as keynote speakers:
| | |
| --- | --- |
| Professor Edward M. Hundert is Dean for Medical Education at Harvard Medical School (HMS). He has previously served as President of Case Western Reserve University, Dean of the University of Rochester School of Medicine and Dentistry, and Associate Dean for Student Affairs at HMS. An internationally known scholar, educator, psychiatrist, and ethicist, he has held professorial appointments in psychiatry, medical ethics, cognitive science, and medical humanities. | |
| Professor Cees van der Vleuten, is the former chair of the Department of Educational Development and Research in the Faculty of Health, Medicine and Life Sciences at the University of Maastricht in The Netherlands. He mentors many researchers in medical education and has supervised approximately 90 doctoral graduate students. His primary expertise lies in evaluation and assessment | |
| Professor Karen Eggleston is a Senior Fellow at the Freeman Spogli Institute for International Studies (FSI) at Stanford University. She also serves as Director of the Stanford Asia Health Policy Program and Deputy Director of the Shorenstein Asia-Pacific Research Center at FSI. She is a faculty affiliate of the Center for Innovation in Global Health at Stanford School of Medicine and of the health economics and China programs of the National Bureau of Economic Research (NBER). | |
| Associate Professor Vu Minh Phuc, former Vice Dean of the Faculty of Medicine at the University of Medicine and Pharmacy at Ho Chi Minh City (UMP HCMC). She has led UMP HCMC curriculum reform efforts, and serves as an adviser to health professional universities across Vietnam in the areas of curriculum reform and faculty development. | |
| Dr. Le Thi Thuy is the vice-rector of Da Nang University of Medical and Pharmacological Techniques. She is a member of the Steering Committee on responding to the COVID-19 pandemic. In the context of the COVID-19 outbreak in Da Nang city in late July 2020, Dr. Thuy led the research on "training and mobilizing medical students in response to COVID19 epidemic." | |
The 4th Annual Medical Education Conference – "Partnerships in Medical Education" – has promoted and shared innovations and advances in health professional education, with a focus on the excellent Vietnamese response to COVID-19.
For more information about the conference, please visit http://vmeconf.com/