In all societies, apart from modern medicine that is derived from scientific knowledge, there are numerous medical traditions which are grouped as alternative and complementary medicine. Naturopathic Medicine, a form of alternative medicine is a distinct primary health care profession, emphasizing prevention, treatment, and optimal health through the use of therapeutic methods and substances that encourage individuals' inherent self-healing process. The practice of naturopathic medicine includes modern and traditional, scientific, and empirical methods and it is currently practiced not only in a specific country but in different countries from different parts of the world.
To gather studies, research findings and experiences in naturopathic medicine, particularly in competency based education, during March 14 – 16, Thai Nguyen University of Medicine and Pharmacy in collaboration with related stakeholders: German Association of Enzyme Research, Working Group of Microbiological Therapy, and Giessen Justus-Liebig University in Germany and co-organizers: Cavite State University in Philippines successfully organized the international medical pluralism that focused on the theme "Naturopathic Medicine in Asia and Europe: Competency and Education in Exchange"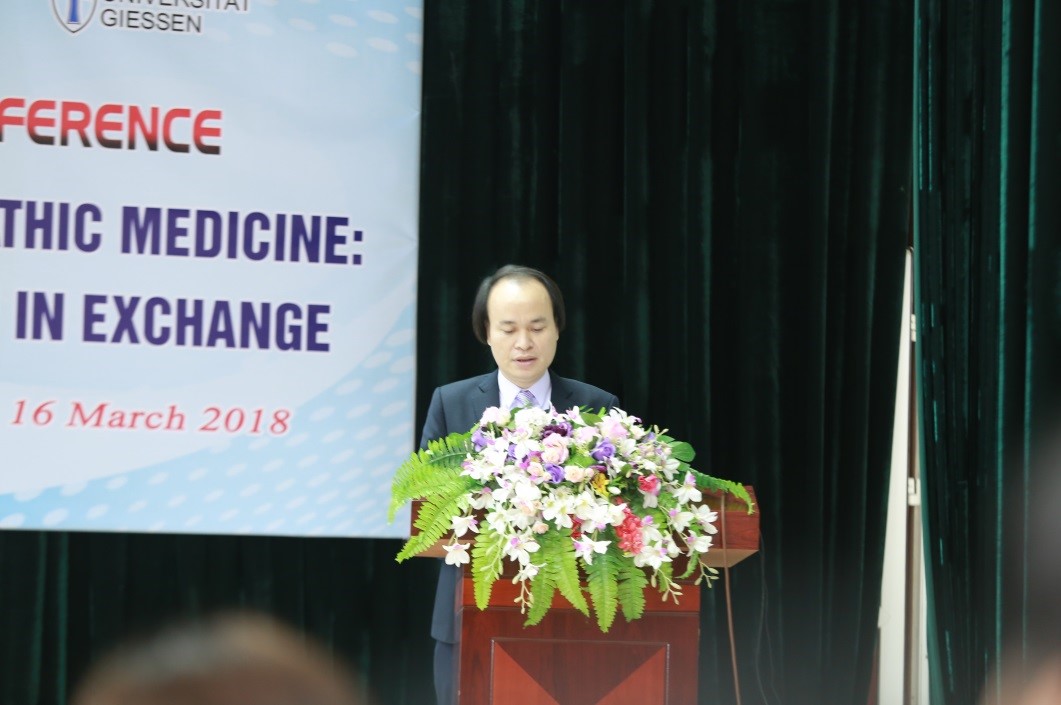 Inauguration speech by Assoc.Prof Nguyen Tien Dung, Vice Rector - Thai Nguyen University of Medicine and Pharmacy
The conference was very honored to have the prensence of distinguished delegates, namely Professor Dang Van Minh, Vice-President of Thai Nguyen University; Professor. Detlef Briessen, professor of history at Giessen Justus-Liebig University in Germany; Ms. Brigitte Sebastia, expert in complementary medicine in Asia; Dr. Hernando Robles, President of Cavite State University; Dr. Shamon Abraham, Dean- College of Medicine, Cagayan University in Philippines. Delegates from different hospitals, health departments and related management departments in Thai Nguyen and other provinces in Vietnam also came to attend the conference.
The International Medical Pluralism Conference 2018 was remarkably opened by the Honorary Doctorate Degree Conferment Ceremony to Prof. Detlef Briesen for his outstanding contribution and efforts to education and training development at Thai Nguyen University over the past years.

Professor.Dr Dang Van Minh, Vice President of Thai Nguyen University awards the Honorary Doctorate Degree to Dr. Detlef Briesen

Invited international and Vietnamese speakers, presenters, attendants, and delegates at the conference
The objectives of the International Medical Pluralism Conference are: 1) exchange knowledge and experiences in competency – based education; and 2) exchange ideas and experiences in medical traditions, complementary medicine and naturopathic medicine. At the conference, there were technical performances which applied traditional medicine such as acupuncture, acupoint catgut embedding therapy and herbal medicine in pain treatment. Presentations on competency-based education in Vietnam and Philippines, medical traditions in Vietnam, complementary medicine in Europe today also provided informative knowledge, experiences as well as lessons learned for all conference participants

A case study on pain therapy with neural therapy presented by an international presenter from Germany

A technical performance on applying acupuncture for neck pain treatment by Department of Traditional Medicine, Thai Nguyen University of Medicine and Pharmacy
Beside indoor technique performances and presentations, attendants were arranged to visit Thai Nguyen Traditional Hospital and Institute for Forest Research and Development at Thai Nguyen University of Agriculture and Forestry. At Thai Nguyen Traditional Hospital, all participants were introduced to the traditional health services provided by the hospital and the process of producing traditional medicine from medicinal herbs. The visit to Institute for Forest Research and Development also provided the attendants an overview of how medicinal herbs in Vietnam are preserved and bred.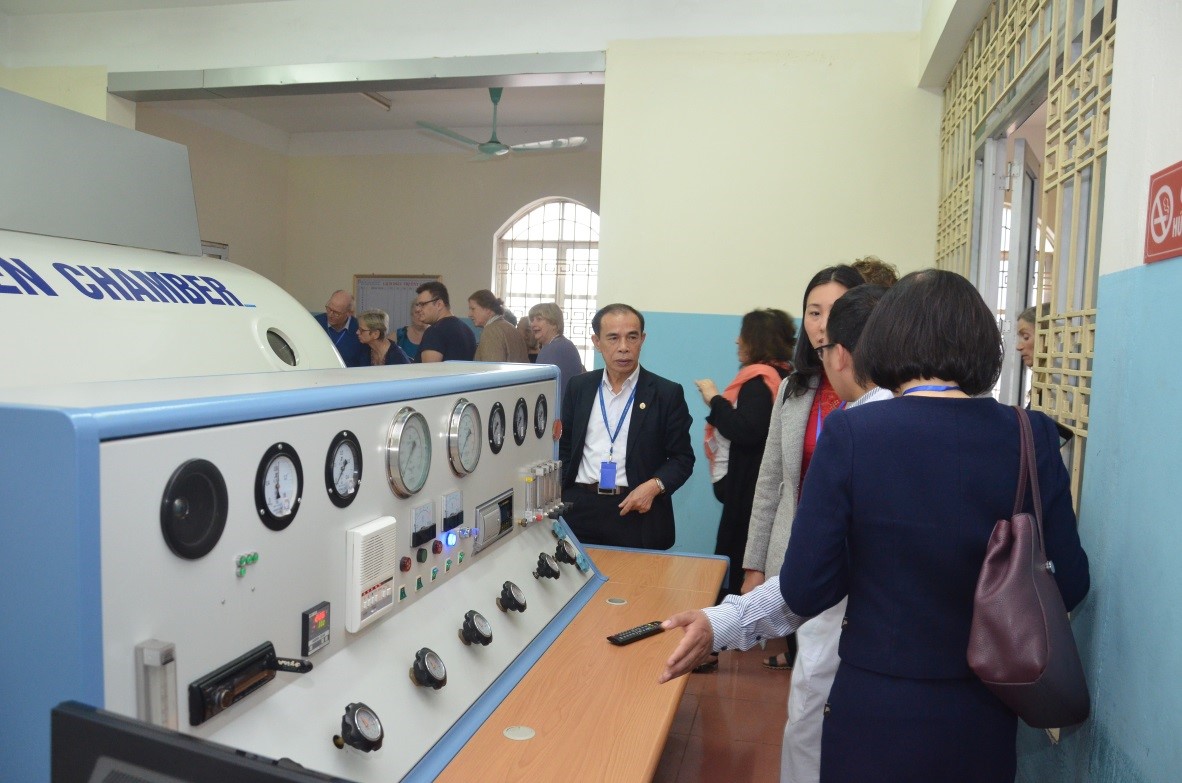 The international conference closed and its achievements beyond the planed objectives. It really provides the golden opportunity for experts, researchers, doctors, lecturers and students from Europe and Asia to exchange and develop the cooperation network in researches on naturopathic medicine particularly and alternative or complementary generally.